9 Tasty Summer Treats That Support Liver Health
If you want to enjoy summertime food while still promoting liver health, here are 9 yummy treats to try.
For many, summertime offers the ability to eat fruits and veggies direct from the garden. If you like to fish, there's nothing like cooking up your catch the same day. It doesn't get any fresher than that.
While many like to use this season's foods in their favorite recipes, when these recipes have a lot of sugar, fat, or sodium, it's not good for your liver. If you want to enjoy summertime food while still promoting liver health, here are nine tasty treats to consider.
1. Blueberry Oatmeal
Oatmeal has a high β-glucans content at 8 grams per 100 grams of dry weight—with barley the only other grain to have more at 20 grams—and research has credited this group of dietary fibers with boosting immunity, lowering inflammation, and contributing to healthier cholesterol and blood sugar levels. (1) Mix in some fresh blueberries for a flavorful punch that provides anti-oxidative effects. (2)
2. Lemon-Salmon Salad
If you're looking for a lunch that won't weigh you down, lemon-seasoned salmon on a bed of dark leafy greens is one option that tastes amazing and also supports liver health. This is because salmon is high in omega-3 fatty acids, which can help reduce liver fat. (3) You'll be ready for yard work, beach volleyball, or any other physical event after this light midday meal. Natural Wellness also offers Super Omega-3 Fish Oil if you want these benefits but don't enjoy the taste of fish.
3. Grill-Roasted Brussels Sprouts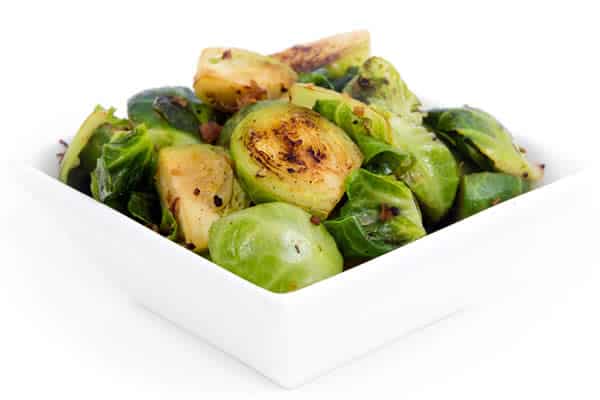 Summertime is perfect for grilling your veggies. Brussels sprouts are one cruciferous option to add to your list because they help protect the liver against oxidative effects. (4) Cut them into thin slices, sprinkle with a touch of olive oil, salt and pepper to taste, and grill them in aluminum foil for a satisfying side dish.
4. Sautéed Garlicky Kale
Another side dish good for the liver is kale. This superfood is rich in antioxidants while also supplying the body with numerous vitamins and minerals to support better overall health, including vitamins A and K, calcium, and manganese. (5) Some people are turned off by its strong taste which can be tempered by sautéing it in garlic and olive oil.
5. Fruit Bowl with Yogurt
If you're in the mood for something fresh yet sweet, a fruit and yogurt bowl delivers. One animal study found that a diet of fruit and yogurt helps protect against nonalcoholic fatty liver disease through its effects on the gut microbiome. (6) Berries are one fruit to include, as well as apples for a bit of crunch.
6. Frozen Grape Bites
Grapes have been found to provide positive effects on the liver, with one small study noting that grape seed extract was beneficial for patients with nonalcoholic fatty liver disease. (7) Pop fresh grapes in the freezer for a cold treat on hot summer days. It's like nature's popsicle without all of the added sugar.
7. Grapefruit Sorbet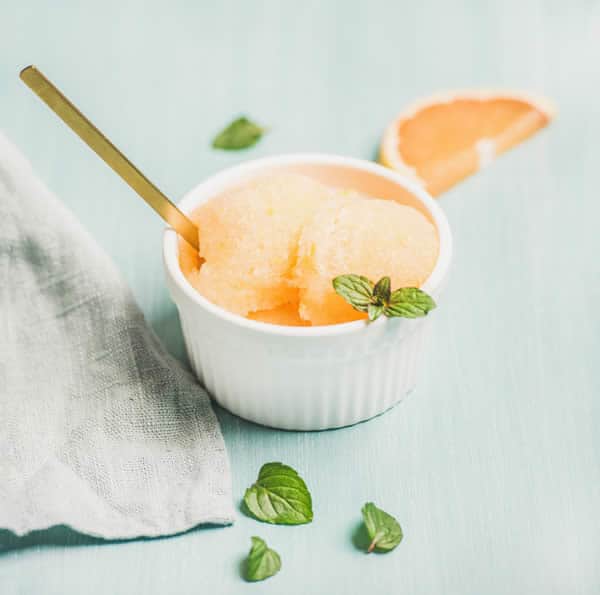 Ice cream is often a favorite summertime treat, but if you want an option that better supports liver health, grapefruit* sorbet delivers. Grapefruit contains naringin, a substance that can increase the body's resistance to oxidative stress while lowering lipid accumulation. (8) There are many recipes online if you'd like to make your own. Choosing one lower in sugar can keep you from getting too much of this ingredient.
*Make sure to check the insert on any medications you take because grapefruit interferes with certain drugs.
8. Iced Coffee
Coffee helps protect the liver (9), though a hot drink may not be very appealing on a warm summer day. Transfer it from a 12-ounce mug to a glass full of ice and you now have a cool beverage that quenches your thirst while tantalizing your taste buds. It's also good for a little afternoon pick-me-up on days when your energy levels could use a little help.
9. Green Tea Smoothie
Green tea has been found to both prevent and reduce the progression of nonalcoholic fatty liver disease. (10) Put it in a blender with ice and you now have a refreshing smoothie. For added flavor, throw some kale and berries in, too. Play around with the flavors and see what you can come up with!
(1) Imran Bashir, K., Choi, JS. (2017, Sep). Clinical and Physiological Perspectives of β-Glucans: The Past, Present, and Future. International Journal of Molecular Sciences. doi:10.3390/ijms18091906
(2) Ren, T., Zhu, L., Shen, Y., Mou, Q., Lin, T., Feng, H. (2019, Jan). Protection of Hepatocyte Mitochondrial Function by Blueberry Juice and Probiotics Via SIRT1 Regulation in Non-Alcoholic Fatty Liver Disease. Food & Function. doi:10.1039/C8FO02298D
(3) Parker, H., Johnson, N., Burdon, C., Cohn, J., O'Connor, H., George, J. (2012, Apr). Omega-3 Supplementation and Non-Alcoholic Fatty Liver Disease: A Systematic Review and Meta-Analysis. Journal of Hepatology. doi:10.1016/j.jhep.20122.08.018
(4) Kim, J., Shin, EC., Kim, C., Park, G., Choi, S. Park, C., Shin, D. (2013, Nov 15). Phytochemical Components on Oxidative Stress-Induced Neuronal Damages in PC12 Cells and ICR Mice. Journal of Medicinal Food. Doi:10.1089/jmf.2012.0280
(5) Mayo Clinic Health System. (2018, May 29). The Many Types and Health Benefits of Kale. Retrieved Jun 29, 2021, from https://www.mayoclinichealthsystem.org/hometown-health/speaking-of-health/the-many-types-and-health-benefits-of-kale
(6) Kong, CY., Li, ZM., Han, B., Zhang, ZY., Chen, HL., Zhang, SL., Xu, JQ., Mao, YQ., Zhao, YP., Wang, LS. (2019, Jul 04). Diet Consisting of Balanced Yogurt, Fruit, and Vegetables Modifies the Gut Microbiota and Protects Mice Against Nonalcoholic Fatty Liver Disease. Molecular Nutrition & Food Research. doi:10.1002/mnfr.201900249
(7) Khoshbaten, M., Aliasgarzadeh, A., Masnadi, K., Farhang, S., Tarzamani, M., Babaei, H., Kiani, J., Zaare, M., Najafipoor, F. (2010, Jul-Sep). Grape Seed Extract to Improve Liver Function in Patients with Nonalcoholic Fatty Liver Change. Saudi Journal of Gastroenterology. doi:10.4103/1319-3767.65197
(8) Zhou, C., Lai, Y., Huang, P, Xie, L., Lin, H., Zhou, Z., Mo, C., Deng, G., Yan, W., Gao, Z., Huang, S., Chen, Y., Sun, X., Lv, Z., Gao, L. (2019, Jan 01). Naringin Attenuates Alcoholic Liver Injury by Reducing Lipid Accumulation and Oxidative Stress. Life Sciences. doi:10.1016/j.lfs.2018.07.031
(9) Chen, S., Teoh, N., Chitturi, S., Farrell, G. (2014, Mar). Coffee and Non-Alcoholic Fatty Liver Disease: Brewing Evidence for Hepatoprotection? Journal of Gastroenterology and Hepatology. doi:10.1111/jgh.12422
(10) Masterjohn, C., Bruno, R. (2012, Jan 01). Therapeutic Potential of Green Tea in Nonalcoholic Fatty Liver Disease. Nutrition Reviews. doi:10.1111/j.1753-4887.2011.00440.x