9 Fall Fruits & Vegetables Good for Liver Health
From A to Z, apples to zucchini, find out 9 delicious fall fruits and vegetables that are wonderful for liver health.
Fall is known as the season of change. Leaves transition from bright green to various shades of red, orange, yellow, and brown before finally falling from the trees. Warm winds change to cool breezes, putting a nip in the air. This makes fall a good season for also changing your diet in a way that promotes eating more seasonal food for liver health. Here are nine fruits and vegetables that are good options to consider for liver health since they are in season in the fall months.
What Fruits & Vegetables Are Good For Liver Health?
1. Apples
One study found that the polyphenols in apples help improve the body's ability to clean out damaged cells via a process called autophagy that, if defective, can lead to non-alcoholic fatty liver disease (NAFLD). (1)
Apple slices make great snacks but if you're looking for a warm treat, you can also bake them in the oven until they're soft and sprinkle them with cinnamon. It's like a healthy version of apple pie.
2. Pears
Eating pears can help reduce the risk of fatty liver disease (hepatic steatosis) thanks to the triterpenoids they contain. (2) The peel of the pear contains 17 times more triterpenoids than the flesh, so eat it with the peel on.
This fall fruit is good fresh or you can chunk it up and add it to your favorite salad for a bit of sweetness.
3. Kiwi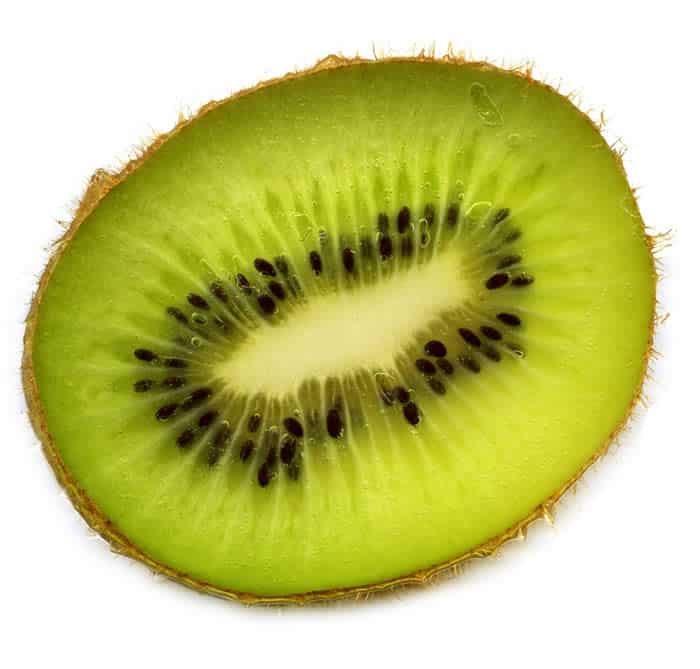 Animal-based studies connect the oil in kiwi seeds with protecting against inflammation and reducing liver fat, in part, by reducing triglyceride and total cholesterol levels. (3)
Add kiwi to your morning smoothie for a bit of tang or cut it up and put it in your Greek yogurt for a snack that offers both carbs and protein.
4. Grapes
Grape seeds contain proanthocyanidins, which are chemical compounds that give the fruit its color. Research indicates that these compounds help reduce inflammation in liver cells. (4)
Grapes make a great addition to several different types of salads. This Healthy Table offers 12 salad recipes with grapes, enabling you to pick one that suits your taste buds best.
5. Cranberries
Nothing says Thanksgiving like a big bowl of cranberries. This year, you can enjoy these tart red berries knowing that they are good for your liver. For instance, one study involving patients with NAFLD reported that consuming a cranberry supplement helped decrease liver fat, also positively impacting lipid profiles and insulin resistance. (5)
Cranberries are also good when added to baked goods, so that's another option.
6. Pumpkin (The Seeds, Specifically)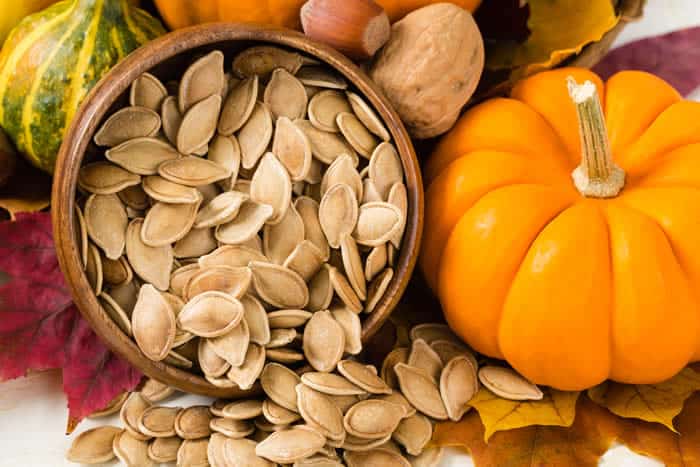 The oil in pumpkin seeds has been found to reduce liver fat and improve liver function in studies involving animals, causing researchers to suggest that it may help stop the progression of fatty liver to steatohepatitis. (6)
Pumpkin seeds can be eaten raw or roasted. Snack on them between meals or add them on top of your salad for an extra crunch.
7. Eggplant, A Fall Vegetable for Liver Health
Eggplant is a vegetable with antioxidant and antihyperlipidemic properties that also helps to protect the liver. (7)
You can roast cubed eggplant in the oven, then add it to your favorite pasta dish or put it on top of a homemade pizza. It's also good lightly breaded and fried in olive oil for a warm side dish on a cool fall day.
8. Butternut Squash
Butternut is a fall squash that is incredibly high in β-cryptoxanthin, a carotenoid associated with a decreased risk of liver dysfunction and potentially even the prevention of NAFLD. (8)
Like many other types of squash, butternut is good cut in half and roasted flesh side up with a drizzle of olive oil and black pepper. You can also cut it into chunks and roast it with chili and garlic powder for a different taste.
9. Zucchini
Another type of squash, zucchini's phenolic profile helps offer protection against liver injury. (9)
Chopped or grated zucchini can be easily added to many dishes, where it will take on the flavors of the ingredients around it. You can also turn it into "zoodles" and substitute it for pasta in your favorite Italian dish.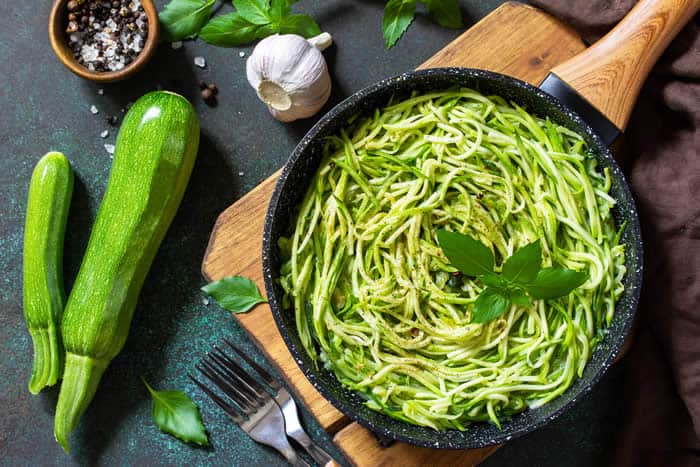 Incorporating these fall fruits and vegetables into your meal plan can be beneficial to the health of your liver. Not to mention, they also taste great!
Other Food For Liver Health
Looking for other ways to support your liver? Incorporate eating more beets, and celery, indulge in these healthy treats or try the best supplements for fatty liver and more.
(1) Li, D., Cui, Y., Wang, X., Liu, F., Li, X. (2020, October 09). Apple Polyphenol Extract Alleviates Lipid Accumulation in Free-Fatty-Acid-Exposed HepG2 Cells Via Activating Autophagy Mediated by SIRT1/AMPK Signaling. Phytotherapy Research. doi: https://doi.org/10.1002/ptr.6902
(2) Hong, S., Lansky, E., Kang, S., Yang, M. (2021, September 01). A Review of Pears (Pyrus spp.), Ancient Functional Food for Modern Times. BMC Complementary Medicine and Therapies. doi: https://doi.org/10.1186/s12906-021-03392-1
(3) Qu, L., Liu, Q., Zhang, Q., et al. (2019, January). Kiwifruit seed oil ameliorates inflammation and hepatic fat metabolism in high-fat diet-induced obese mice. Journal of Functional Foods. doi: https://doi.org/10.1016/j.jff.2018.12.003
(4) Lee, J., Kim, Y. II, Kim, Y., et al. (2017, May 19). Grape Seed Proanthocyanidin Inhibits Inflammatory Responses in Hepatic Stellate Cells by Modulating the MAPK, Akt and NF-κB Signaling Pathways. International Journal of Molecular Medicine. doi: https://doi.org/10.3892/ijmm.2017.2997
(5) Shirazi, K., Shirinpour, E., Shirazi, A., Nikniaz, Z. (2021, November 19). Effect of Cranberry Supplementation on Liver Enzymes and Cardiometabolic Risk Factors in Patients with NAFLD: A Randomized Clinical Trial. BMC Complementary Medicine and Therapies. doi: https://doi.org/10.1186/s12906-021-03436-6
(6) Al-Okbi, S., Mohamed, D., Hamed, T., et al. Enhanced Prevention of Progression of Non Alcoholic Fatty Liver to Steatohepatitis by Incorporating Pumpkin Seed Oil in Nanoemulsions. Journal of Molecular Liquids. doi: https://doi.org/10.1016/j.molliq.2016.10.138
(7) Yarmohammadi, F., Rahbardar, M., Hosseinzadeh, H. (2021, April). Effect of Eggplant (Solanum Melongena) on the Metabolic Syndrome: A Review. Iranian Journal of Basic Medical Sciences. doi: https://doi.org/10.22038/ijbms.2021.50276.11452
(8) Burri, B., La Frano, M., Chenghao, Z. (2016, February). Absorption, Metabolism, and Functions of β-cryptoxanthin. Nutrition Reviews. doi: https://doi.org/10.1093/nutrit/nuv064
(9) Gómez-Maqueo, A., Escobedo-Avellaneda, Z., Welti-Chanes, J. (2020, November 7). Phenolic Compounds in Mesoamerican Fruits—Characterization, Health Potential and Processing with Innovative Technologies. International Journal of Molecular Sciences. doi: https://doi.org/10.3390/ijms21218357