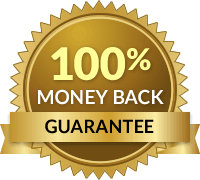 Risk-Free Money-Back Guarantee
Try Serrapeptase & Proteases risk-free for 90 days. If you don't love it, simply send it back for a full refund. No questions asked - For first time orders, we'll even pay for the return shipping.
Serrapeptase & Proteases is a powerful blend of proteolytic enzymes designed to support your body's natural inflammatory response, as well as promote your respiratory and immune health.
Inflammation is our body's natural response to injury and infection. It is a complex biological process to ward off invading pathogens and initiate the healing process. For example, inflammation may arise if you have been infected by a virus or parasite, which has been associated with reduced liver function.
Acute inflammation is short-term and characterized by swelling, redness, heat, pain, and loss of function, signs which typically subside when the underlying problem goes away. Chronic inflammation, on the other hand, may be the continuation of acute inflammation or a prolonged low-grade form of inflammation, and it often goes unnoticed until manifesting in symptoms of a disease.
As we age, we often lose the ability to recover from injury as quickly as we did at an earlier age. The minor injuries our body encounters can lead to more serious issues if inflammation is not effectively managed. Unregulated inflammatory responses cause havoc on our bodies resulting in pain and discomfort. Chronic inflammation can lead to everything from diabetes to arthritis to cardiovascular and respiratory conditions.
Fibrin is an insoluble protein our body produces in response to bleeding or inflammation. Under normal circumstances, excess fibrin in connective tissue is broken down by proteolytic enzymes and removed. When this process is compromised, excess fibrous material accumulates in the tissue and leads to fibrotic conditions such as arthritis and cardiovascular issues. Excess fibrin is also associated with scar tissue buildup, including on the liver. Additional scar tissue on an already compromised liver could decrease function even further.
Serrapeptase & Proteases contains proteolytic enzymes, rich with its namesake serrapeptase, which support the body's natural response to inflammation. Its proposed mode of action supports the body's natural mechanism for dissolving fibrin and preventing excess amounts in the body.
The enteric-coating we use on our serrapeptase ensures the enzyme reaches the small intestine to be absorbed into the bloodstream, and work systemically. These enteric coated enzymes are designed to withstand the different pH levels of the human digestive tract, ensuring proper delivery of the enzymes into the bloodstream.
Coenzymes and Cofactors
The powerful blend of coenzymes and cofactors in Serrapeptase & Proteases function as a unique enzyme enhancer. Naturally enzymes require the assistance of coenzymes and cofactors to carry out their duties. The addition of these eight ingredients give enzymes the assistance they need to function to their full potential:
Vitamins B1, B6 and B12 - Used for many cellular functions and enzymatic reactions involving amino acids, glucose and lipid metabolism.
Calcium - Serving as a cell-signaling molecule, it is essential in many enzyme reactions. Calcium activates a protein (calmodulin) which, in turn, changes the way enzymes work.
Magnesium - A cofactor that assists enzymes in over 300 enzymatic reactions.
Amla - A chemical compound that has been shown to have hepatoprotective (liver protective) effects against different toxicants and has been shown to support enzymes and increase antioxidant enzymes.
Phytase - A phyosphatase enzyme that's actions take indigestible forms of phosphorus and break it down into a form that the body can digest and utlize.
Serrapeptase & Proteases is an efficacious systemic enzyme formula, and one of the most potent on the market for supporting your health.