Vitamin D3 + K2
Benefits Bone and Cardiovascular Health - Strengthen Immune Function - 60 Vegetarian Capsules: 60-Day Supply
Strengthens immune function. Essential Nutrients for Bone and Cardiovascular Health.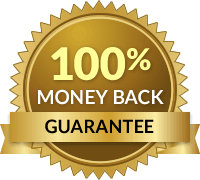 Risk-Free Money-Back Guarantee
Try Vitamin D3 + K2 risk-free for 90 days. If you don't love it, simply send it back for a full refund. No questions asked - For first time orders, we'll even pay for the return shipping.
Background
Vitamin D and K have both been extensively researched, providing evidence of their benefits to bone and cardiovascular health!
Vitamin D comes in two forms:
Vitamin D2
Vitamin D3
Vitamin D3, also known as cholecalciferol, is the the natural, more effective and bioavailable form. The body manufactures Vitamin D from cholesterol, through a process triggered by the action of sunlight on skin, hence its nickname, "the sunshine vitamin."
However, not all sunlight is created equal: The sun's ultraviolet B (UVB) rays, the rays that signal the skin to produce Vitamin D, are stronger near the equator and weaker at higher latitudes. Thus, in the fall and winter, people who live at higher latitudes (in the northern U.S. and Europe, for example) can't make much, if any, Vitamin D from the sun.
Just like Vitamin D, Vitamin K also comes in two forms:
Vitamin K1
Vitamin K2
Vitamin K2 is further broken down into two types:
MK-4
MK-7
MK-7, also known as menaquinone-7, is the more bioavailable type, meaning it is better absorbed by your body. Vitamin K2 can be obtained through diet—predominantly animal-based and fermented foods. Some Vitamin K2 is also produced by bacteria in the colon.
However, inadequacies in this nutrient arise because nutrient-poor diets are so common. Those who eat low-fat diets are more likely to have a Vitamin K2 deficiency, as it is found in animal proteins (such as egg yolks, full-fat dairy products, and organ meats).
When we don't consume the dietary intake recommendations, these inadequacies can have implications over time causing long-term health issues.
Benefits of Vitamin D3 + K2
Utilizes bioavailable forms of essential nutrients—Vitamin D3 and K2—to support your body in building and maintaining strong bones.*
Working together, D3 and K2 assist the body in producing and utilizing calcium to improve bone and teeth health.*
Helps maintain adequate blood calcium levels which help support cellular metabolic processes, cardiovascular and neuromuscular/neurological function.*
Both nutrients are crucial for a healthy, strong bone matrix.*
D3 supports healthy immune function. Scientists have found that Vitamin D is crucial to activating our immune defenses. Without sufficient intake of the vitamin, T cells will not be able to react to and fight off serious infections in the body. The research team found that T cells first search for Vitamin D in order to activate and, if they cannot find enough of it, will not complete the activation process.
K2 supports the proper metabolism of calcium preventing accumulations in the blood vessels. High levels of K2 in one's diet has been associated with healthy blood vessels and heart.*
Usage
Each bottle of Vitamin D3 + K2 contains 60 vegetarian capsules. As a dietary supplement, take 1 vegetarian capsule daily or as directed by your medical professional.
Warnings
Consult your medical professional prior to use if you have, or suspect you have, any medical condition, are currently taking prescription drugs, or are pregnant or breastfeeding.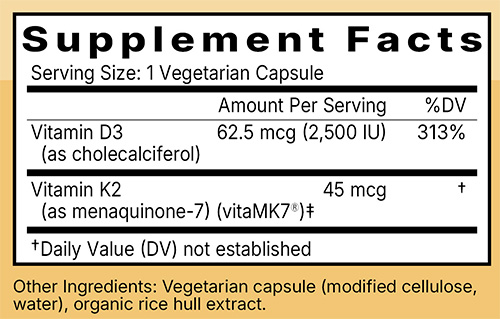 About Us
Natural Wellness® supplements are recommended by healthcare professionals and are sold around the world. When developing, formulating and producing supplements, Natural Wellness® focuses on science, quality, and proven performance. Ingredients used are of the highest quality, and all supplements are manufactured in the USA under strict current Good Manufacturing Practice (cGMP) regulations ensuring all safety and quality standards are met.
100% Guaranteed
All products are guaranteed to give you 100% satisfaction in every way. If you are not completely satisfied with a product you purchased for any reason, return it to Natural Wellness® within 90 days of purchase, and you will be issued a complete refund of the purchase price (less shipping and handling).
For any nutritional product you try for the first time, in addition to refunding you the purchase price, you will be refunded your shipping and handling, AND Natural Wellness® will even pay for the return shipping. Natural Wellness® truly takes the risk out of trying something new.
This is just one component of Natural Wellness' Super 7 Satisfaction Guarantee - which provides you with a risk-free, 100% money-back guarantee - along with the finest quality, service and security available online today.