Cholesterol Support
Superior Ingredients That Naturally Support Healthy Cholesterol and Homocysteine Levels - 90 Tablets: 30-Day Supply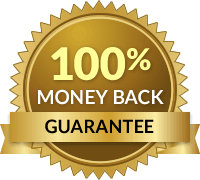 Risk-Free Money-Back Guarantee
Try Cholesterol Support risk-free for 90 days. If you don't love it, simply send it back for a full refund. No questions asked - For first time orders, we'll even pay for the return shipping.
Benefits
Maintaining a healthy cholesterol level can be very difficult for some people, particularly those with a genetic tendency for high blood cholesterol levels. The natural ingredients in Cholesterol Support, combined with a healthy diet and regular exercise, can help you to maintain appropriate, normal cholesterol levels.
Homocysteine is a common amino acid and one of the building blocks that make up proteins. In addition to being found in your blood, it is acquired mostly from eating meat. High levels of homocysteine are related to the early development of heart and blood vessel disease. In fact, it is considered an independent risk factor for heart disease. High homocysteine levels are also associated with low levels of Vitamins B-6, B-12 and folic acid.

Cholesterol Support is a synergistic combination of vitamins, minerals and natural ingredients designed to support normal, healthy levels of both low-density lipoproteins (LDL, aka "bad" cholesterol), and high-density lipoproteins (HDL, aka "good" cholesterol), as well as healthy homocysteine levels.
Policosanol Plus® is a patented form of policosanol, derived from rice bran, which decreases platelet stickiness. It could help reduce blood clots. It promotes healthy cholesterol levels by decreasing cholesterol production in the liver.
CoroWise® brand of plant sterols are chemically similar to cholesterol. They compete with cholesterol for intestinal absorption, thereby reducing the amount of cholesterol that is absorbed into your bloodstream.
Soylife® isoflavones are a brand of soy proteins that have been proven to provide a variety of health benefits. In addition to encouraging normal blood cholesterol, they also promote cardiovascular health.
Pantesin® brand of pantethine is metabolized to cysteamine, which deactivates the liver enzymes involved in cholesterol production.
ChromeMate® brand chromium consists of chromium bound to niacin, two nutrients essential for cholesterol and fat metabolism.
Tocotrienols are a type of Vitamin E that support healthy cholesterol synthesis in the liver and normal homocysteine levels in the blood.
Oat Bran has been proven through numerous studies and is widely accepted to promote healthy cholesterol levels and heart health.
Phosphatidylcholine breaks down fat and promotes healthy cholesterol levels.
Gugulipid is widely used in India to help promote and support healthy cholesterol levels.
Vitamins B-6, B-12, and Folic Acid help promote cardiovascular health by supporting normal, healthy levels of homocysteine in the blood.
Garlic, Grape Seed Extract and Artichoke are added for their antioxidant and synergistic effects.
Many Americans suffer from high cholesterol and homocysteine levels which put them at a greater risk of developing heart disease. Cholesterol Support can help you maintain healthy, appropriate levels of both good and bad cholesterol as well as homocysteine in your blood.
Usage
As a dietary supplement, take 3 tablets daily with a meal or as directed by a medical professional.
Warnings
Please consult with a medical professional prior to use especially if you have or suspect you might have a medical condition, are currently taking prescription drugs, or are pregnant or breastfeeding. Discontinue use two weeks prior to surgery.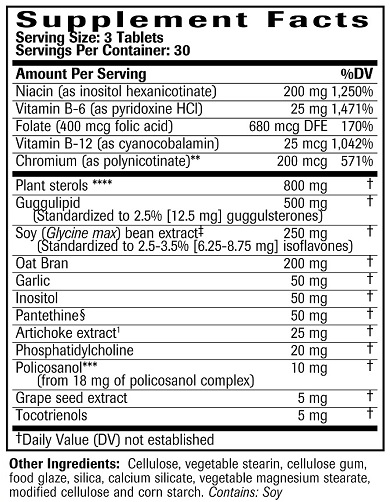 About Us
Natural Wellness® supplements are recommended by healthcare professionals and are sold around the world. When developing, formulating and producing supplements, Natural Wellness® focuses on science, quality, and proven performance. Ingredients used are of the highest quality, and all supplements are manufactured in the USA under strict current Good Manufacturing Practice (cGMP) regulations ensuring all safety and quality standards are met.
100% Guaranteed
All products are guaranteed to give you 100% satisfaction in every way. If you are not completely satisfied with a product you purchased for any reason, return it to Natural Wellness® within 90 days of purchase, and you will be issued a complete refund of the purchase price (less shipping and handling).
For any nutritional product you try for the first time, in addition to refunding you the purchase price, you will be refunded your shipping and handling, AND Natural Wellness® will even pay for the return shipping. Natural Wellness® truly takes the risk out of trying something new.
This is just one component of Natural Wellness' Super 7 Satisfaction Guarantee - which provides you with a risk-free, 100% money-back guarantee - along with the finest quality, service and security available online today.