Super Probiotics
10 Billion Living Cells Per Serving - Restore Beneficial Bacteria in the Stomach and Intestines - 60 Vegetarian Capsules: 30-Day Supply
60 Capsules: 30-Day Supply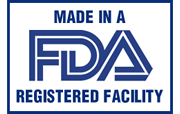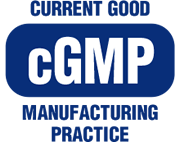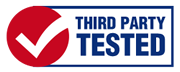 10 BILLION Active Cells
Scientific studies have proven that probiotics not only releaves digestive upset but also helps reduce fat in your liver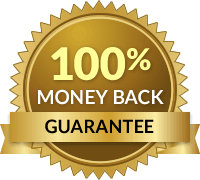 Risk-Free Money-Back Guarantee
Try Super Probiotics risk-free for 90 days. If you don't love it, simply send it back for a full refund. No questions asked - For first time orders, we'll even pay for the return shipping.
Better Digestion = Better Overall Health
Let's be honest, digestive problems aren't fun. Stomachaches, gas, bloating, constipation, and diarrhea are uncomfortable and potentially embarrassing. Many of these types of digestive issues can be a result of an imbalance of good bacteria in your digestive tract. Now if you have a liver that is not working at its best, it also negatively affects your digestion since you cannot break down all you eat, meaning you are not getting the nutrients you need for good health. It's a double whammy that likely makes you feel tired and just plain crummy. Therefore protecting your digestive tract should be extra important to you.
The unique blend of probiotics and prebiotics in Super Probiotics work symbiotically  to restore the balance of good bacteria in the intestines to help your digestive system work better and keep you feeling your best.
Consequently, a significant amount of your immune system is dependent upon good digestive health. Your body is constantly trying to stay in balance despite a poor diet, stress and aging. Supporting a balanced digestive tract by taking Super Probiotics daily will encourage a healthy immune system.
Recent research also speculates that probiotics and a balanced digestive tract could maintain normal fat levels in the liver.
How Do Probiotics Work?
Probiotics are good bacteria. While your body contains billions of bacteria, many of which are in your digestive system, there are times when non-beneficial bacterial flourish. The imbalance of non-beneficial bacteria to good bacteria can disrupt and wreak havoc on your digestive system. So how do you support a healthy balance of good bacteria? By taking a daily probiotic.
Super Probiotics contains 10 billion active probiotic strains of Lactobacillus and Bifidobacterium plus supporting prebiotics to safely and naturally restore the balance of good and non-beneficial bacteria in your intestinal tract.
The 8 probiotic strains in Super Probiotics are a unique blend produced exclusively by Danisco, the world leader in probiotics. These strains have the ability to adjust to extreme changes in environment creating greater stability for prolonged shelf-life and can survive stomach acid during digestion. This means that more of the active probiotics will reach your digestive system where they can get to work restoring your health.
Prebiotics are a special form of dietary fiber that stimulate the growth and maintenance of the good bacteria (probiotics) in the digestive system. Simply put, prebiotics are food for probiotics. Prebiotics and probiotics work in synergy to benefit a friendly bacterial environment. Super Probiotics includes full-spectrum prebiotics that will nourish bacteria throughout the colon. The prebiotics available in Super Probiotics are a blend including those that provide nourishment in the ascending colon as well as a patented all-natural prebiotic that has high tolerance in the digestive system and provides nourishment in the descending colon selectively increasing the beneficial bacteria while decreasing the non-beneficial.
Make the unique blend of pre- and probiotics in Super Probiotics part of your daily routine and start
Protecting your body against disease causing bacteria and increase beneficial bacteria
Supporting your digestive system to reduce digestive upset, occasional diarrhea, gas and bloating
Improving your immune system for overall better health
Giving your body the boost it needs to process foods more effectively, getting more nutrients to your liver and  your entire body
Preventing the accumulation of fat in the liver
It's worth mentioning that if your digestive system has been imbalanced for years, taking a probiotic supplement may actually increase gas and bloating for some people. Albeit inconvenient or embarrassing, these symptoms are temporary until the good bacteria has a chance to take over and do their work.
To maximize the heatlh of your digestive system, you may wish to combine Super Probiotics with a digestive enzyme blend. To learn more about Digestive Enzymes, click here.
Happy digestive system
Kept me regular, happy digestive system.
This is a great probiotic. Gentle on stomach but very effective. Have my whole family on this stuff!
I have had intestinal problems for 30 years or more, since I have been taking your probiotics they have all gone away...I used to swing from constipation to diarrhea often and have problems with gassiness...no more!
Usage
As a dietary supplement, adults take 2 vegetarian capsules daily with food, or as directed by a medical professional.
Warnings
Please consult with a health care professional before starting any diet, exercise or supplementation program, before taking any medication, or if you have or suspect you might have a medical condition, are currently taking prescription drugs, or are pregnant or breastfeeding.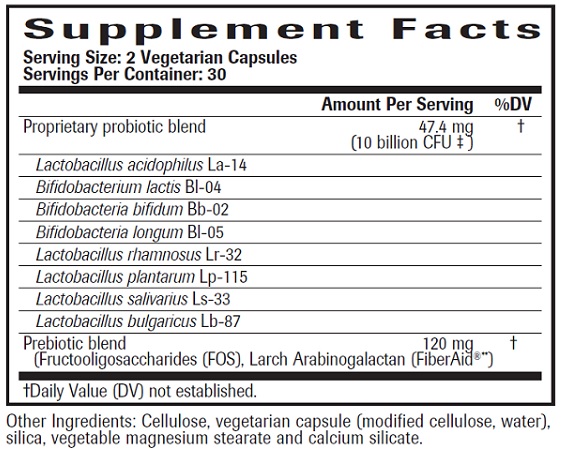 About Us
Natural Wellness® supplements are recommended by healthcare professionals and are sold around the world. When developing, formulating and producing supplements, Natural Wellness® focuses on science, quality, and proven performance. Ingredients used are of the highest quality, and all supplements are manufactured in the USA under strict current Good Manufacturing Practice (cGMP) regulations ensuring all safety and quality standards are met.
100% Guaranteed
All products are guaranteed to give you 100% satisfaction in every way. If you are not completely satisfied with a product you purchased for any reason, return it to Natural Wellness® within 90 days of purchase, and you will be issued a complete refund of the purchase price (less shipping and handling).
For any nutritional product you try for the first time, in addition to refunding you the purchase price, you will be refunded your shipping and handling, AND Natural Wellness® will even pay for the return shipping. Natural Wellness® truly takes the risk out of trying something new.
This is just one component of Natural Wellness' Super 7 Satisfaction Guarantee - which provides you with a risk-free, 100% money-back guarantee - along with the finest quality, service and security available online today.