Collagen Peptides, Unflavored
Collagen Peptides Powder (Type I, III) - Promotes Hair, Nail, Skin, Bone and Joint Health - Unflavored - 9.88 oz: 14-Day Supply
Skin, Hair & Joint Support
Hydrolyzed Collagen: Rich in Amino Acids and Easier to Absorb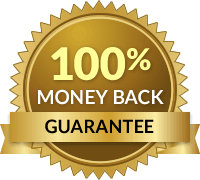 Risk-Free Money-Back Guarantee
Try Collagen Peptides, Unflavored risk-free for 90 days. If you don't love it, simply send it back for a full refund. No questions asked - For first time orders, we'll even pay for the return shipping.
Collagen is the most abundant protein in the body. It's also the main component of connective tissue as it can be found in the hair, nails, skin, tendons, and ligaments. What does this mean in terms of health and wellness?
Collagen is what keeps your skin looking toned and supple, also preventing your nails and hair from becoming brittle and breaking off. Collagen is also important for keeping your body's tendons and ligaments healthy and strong.
Collagen Supplement Benefits
Collagen is a Protein That Becomes Increasingly Important with Age
The older we get, the less collagen our body naturally produces. This opens the opportunity for our skin to sag. Lower collagen levels may also cause some of us to feel more achiness in our joints. Collagen Peptides, which provides 20g of grass-fed bovine collagen per serving, can help with these effects.
Our Collagen Peptides Unflavored is rich in several amino acids—namely glycine, proline, hydroxyproline, and alanine. All these together set the stage for the body to produce more collagen. The more collagen the body produces, the healthier your skin, hair, nails, and joints.
When you take Collagen Peptides, you receive both type 1 and type 3 hydrolyzed collagen. Hydrolyzed collagen is broken down and, thus, easier to absorb. This enables the amino acids contained in Collagen Peptides to be used more efficiently by the body.
Supporting the natural production of collagen through the aging process offers numerous benefits.
More supple skin. Research involving bovine collagen peptides, such as those used in Collagen Peptides, connects this form of collagen with reduced wrinkles and an increase in skin repair and recovery. It works by encouraging moisture in the skin, also supporting the dermal collagen network, skin elasticity, and skin collagen density.*


Stronger hair. Collagen is the tough, fibrous protein in hair. Collagen Peptides helps keep this protein tough and strong, which means less hair breakage and greater hair growth.*


Healthier nails. One study involving bovine collagen peptides found that after 12 weeks, participants had a 10% improvement in their nail growth rate. After 24 weeks, there was a 12% improvement, and the improvement continued even four weeks after the last intake, rising to 15%. This suggests that bovine collagen peptides reduce symptoms of brittle nails and support healthy nail growth.*


Increased joint mobility, along with reduced joint pain and stiffness. The musculoskeletal system relies on collagen to provide a solid infrastructure. This infrastructure is essential for healthy mobility and movement. Numerous studies have connected collagen with stronger bones, joints, and ligaments—along with reductions in joint pain and stiffness.*


Several other important benefits. Collagen serves many other valuable purposes, such as supporting a healthy inflammation response, aiding in recovery from physical stress and trauma, boosting gut health, and helping to form fibroblasts to create new skin cells. Collagen may also potentially help support a healthy intestinal tract lining.*


Unflavored Collagen Peptides provides 20g of hydrolyzed, grass-fed, non-GMO bovine collagen peptides in each serving. Taking it helps support the growth of healthy skin, hair, and nails. Collagen Peptides also supports bone and joint health, especially as you age, also assisting with recovery from tough workouts. Note: This can be especially important for women making this one of the best collagen supplements for women.
Like all other Natural Wellness products, Collagen Peptides Unflavored is manufactured in the U.S.A., where it is made in an FDA-Registered Facility using Current Good Manufacturing Practices (cGMPs). It is also lab-verified for quality and comes with a 100% satisfaction guarantee. We put all these practices in place because we believe that every consumer should know that their dietary supplement is both effective and safe.
Usage
Add 1 level scoop to 8-10 oz. of chilled water or favorite beverage and shake or mix in a shaker cup for about 5 seconds. Drink and enjoy a shake daily.
Warnings
Please consult with a health care professional before starting any diet, exercise or supplementation program, before taking any medication, or if you have or suspect you might have a medical condition, are currently taking prescription drugs, or are pregnant or breastfeeding.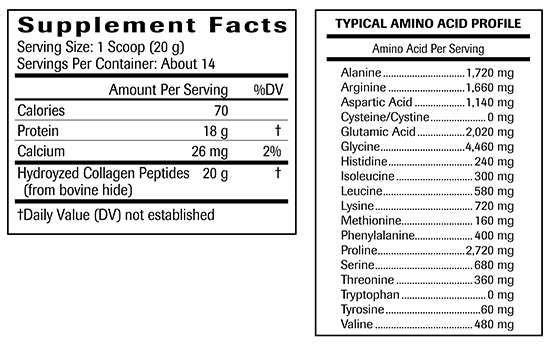 About Us
Natural Wellness® supplements are recommended by healthcare professionals and are sold around the world. When developing, formulating and producing supplements, Natural Wellness® focuses on science, quality, and proven performance. Ingredients used are of the highest quality, and all supplements are manufactured in the USA under strict current Good Manufacturing Practice (cGMP) regulations ensuring all safety and quality standards are met.
100% Guaranteed
All products are guaranteed to give you 100% satisfaction in every way. If you are not completely satisfied with a product you purchased for any reason, return it to Natural Wellness® within 90 days of purchase, and you will be issued a complete refund of the purchase price (less shipping and handling).
For any nutritional product you try for the first time, in addition to refunding you the purchase price, you will be refunded your shipping and handling, AND Natural Wellness® will even pay for the return shipping. Natural Wellness® truly takes the risk out of trying something new.
This is just one component of Natural Wellness' Super 7 Satisfaction Guarantee - which provides you with a risk-free, 100% money-back guarantee - along with the finest quality, service and security available online today.