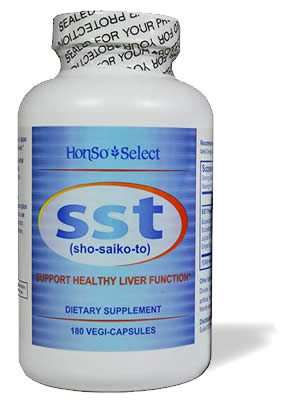 Announcing SST
(Sho-saiko-to)
The All Natural Prescription Strength Liver Formula from Japan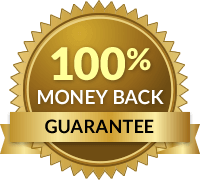 Risk-Free Money-Back Guarantee
Try SST risk-free for 90 days. If you don't love it, simply send it back for a full refund. No questions asked - For first time orders, we'll even pay for the return shipping.
Benefits
The All Natural Prescription-Strength Liver Remedy From Japan*
Clinically proven to protect and support healthy liver cells.*
SST is a modernized version of the professional strength formula, Sho-saiko-to (H09).
SST consists for a perfectly balanced combination of seven herbs, serving to:

Smooth liver energy, which relieves liver congestion and supports liver functioning.
Cool excessive liver heat, which eases liver inflammation and helps prevent cell damage.
Dry excessive dampness and harmonize the digestive system, which reduces fat accumulation and eases stress on the liver.
Strengthen immunity by tonifying energy and blood, which increases resistance to illness.
Sho-saiko-to is based on an ancient Chinese formula whose benefits to the liver have been documented for more than 2,000 years.
Utilizing the full prescription strength dosage of Sho-saiko-to, SST is available in vegetarian capsules. This form increases palatability and ease of use to enhance patient compliance.
Usage
It is recommended to take three SST capsules two times daily or as recommended by a health care professional. Each bottle includes 180 capsules. At the recommended dosage one bottle would last 30 days.
Warnings
Do not use during pregnancy unless recommended by a health care professional. Keep product out of direct light and out of reach of children.
If you have any lung condition or disease, if you are on interferon, or if you have severe cirrhosis and a blood platelet count below 100,000, it is recommended that you not use professional strength SST.
As with any change to your health care regimen, it is recommended that your primary care provider monitor your progress. The entire listing of SST's cautions and contraindications should also be shared with your physician. Be sure to read all the cautions and contraindications which can be found by clicking here.
Ingredients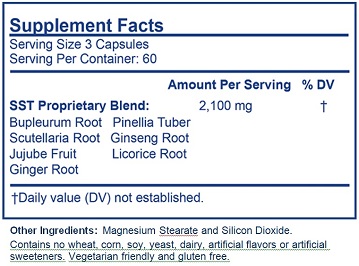 The total weight of standardized extract of 7 ingredients: Bupleurum Root, Pinellia Tuber, Scutellaria Root, Ginseng, Jujube, Licorice, and Ginger is 4.2 grams per day (6 capsules), which is equivalent to 24 grams of raw herbs.
About Us
Natural Wellness® supplements are recommended by healthcare professionals and are sold around the world. When developing, formulating and producing supplements, Natural Wellness® focuses on science, quality, and proven performance. Ingredients used are of the highest quality, and all supplements are manufactured in the USA under strict current Good Manufacturing Practice (cGMP) regulations ensuring all safety and quality standards are met.
100% Guaranteed
All products are guaranteed to give you 100% satisfaction in every way. If you are not completely satisfied with a product you purchased for any reason, return it to Natural Wellness® within 90 days of purchase, and you will be issued a complete refund of the purchase price (less shipping and handling).
For any nutritional product you try for the first time, in addition to refunding you the purchase price, you will be refunded your shipping and handling, AND Natural Wellness® will even pay for the return shipping. Natural Wellness® truly takes the risk out of trying something new.
This is just one component of Natural Wellness' Super 7 Satisfaction Guarantee - which provides you with a risk-free, 100% money-back guarantee - along with the finest quality, service and security available online today.