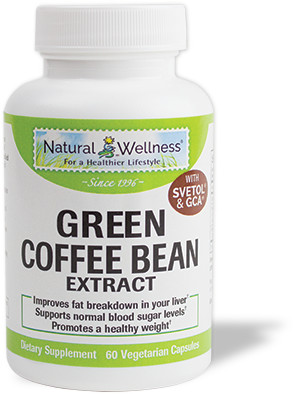 60 Capsules: 30-Day Supply
Green Coffee Bean Extract with Svetol® & GCA®
Safe, Effective Weight Management for Those With Liver Concerns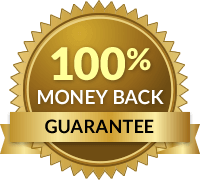 Risk-Free Money-Back Guarantee
Try Green Coffee Bean Extract risk-free for 90 days. If you don't love it, simply send it back for a full refund. No questions asked - For first time orders, we'll even pay for the return shipping.
Benefits
Green coffee beans are coffee beans that have not been roasted. This is important because the roasting process breaks down a lot of the beneficial compounds in coffee. Furthermore, the roasting process intensifies the caffeine content found in coffee beans. Therefore, green coffee bean extract is far more beneficial than the coffee you drink without the high levels of caffeine.
Among its many beneficial effects​​, green coffee bean has also been shown to support weight loss, due to a compound called chlorogenic acid which is found in unroasted and raw coffee beans. Basically, this compound tells your liver to stop absorbing fat while accelerating your metabolism.
Chlorogenic Acid
According to studies, chlorogenic extract supports weight loss and inhibits weight gain in four key ways:
Blocks absorption of fats in your liver
Boosts your metabolism and your body's ability to burn fat
Supports healthy sugar and insulin levels
Acts as a powerful appetite suppressant
Together, these four mechanisms create a unique & natural combination that supports natural weight loss in a way that would be very difficult to mimic with a drug, all while avoiding substances found in many weight loss supplements that are harmful to the liver.
Chlorogenic acids found in coffee also:
Reduces oxidative stress. Chlorogenic acid is a powerful antioxidant. It is a well-known fact that antioxidants play a key role in enhancing the overall body metabolism leading to weight loss. Antioxidants help prevent the oxidation of other food molecules inhibiting the formation of free radicals in the system.
Boosts your body's natural ability to burn fat in your liver.
Increases energy levels without the "jitters" associated with high levels of caffeine.
Boosts glutathione, your body's primary antioxidant and toxin-scavenger. Important for those who have a liver that is not functioning at its best because glutathione is produced in the liver.
Supports the liver detoxification process. Along with boosting glutathione, coffee bean extracts help in activating the liver enabling it to purge fats and eliminate harmful acids, chemicals and cholesterols from the body. Green Coffee thus aids in detoxifying the liver so that it can better function in a healthy fashion. This detoxification process further helps in boosting the metabolic rate of the body.
Supports healthy blood pressure.
Reduces iron absorption. A key benefit for many with liver concerns.
For added benefit we have also included Svetol® and GCA®, two patented, standardized chlorogenic acid extracts of decaffeinated green coffee beans.
Svetol®
Backed by strong clinical evidence, Svetol® has been shown in numerous clinical studies to:
Help you lose weight
Help you slim down
Help you tone
Help you burn fat
Help regulate your blood glucose levels
Through these clinical studies, Svetol® has been proven to increase the breakdown and release of fatty acids in fat cells and positively affect glucose levels and fat metabolism enabling the studies participants to lose weight and decrease their fat mass.
Svetol's patented chlorogenic acid profile has been scientifically proven to be highly bioavailable, meaning it is easily absorbed by your body. This ensures that this unique ingredient is well absorbed and delivers its expected effect once ingested.
Because of its proven health benefits Svetol® has been recognized by the Canadian Health Authorities and Korean Ministry of Food & Drug Safety.
GCA® - Green Coffee Antioxidant
GCA® (Green Coffee Antioxidant) is another patented, standardized chlorogenic acid extract of decaffeinated green coffee beans. GCA® contains large amounts of chlorogenic acid and other powerful antioxidants.
GCA® (Green Coffee Antioxidant) carefully isolates the chlorogenic acid and other powerful antioxidants found naturally in green unroasted coffee. It offers a standardized 50% chlorogenic acid ratio lending it to be the perfect product for those looking to maximize the health benefits of coffee.
GCA® (Green Coffee Antioxidant) has been used successfully in a double-blind, placebo-controlled study to support healthy weight control.
Green Coffee Bean Extract with Svetol® and GCA® will give you the help you need to be successful in your health and weight management goals.
Usage
As a dietary supplement, adults take 2 vegetarian capsule daily, 20-30 minutes before a meal with 8 ounces of water or as directed by a medical professional.
Warnings
Please consult with a health care professional before starting any diet, exercise or supplementation program, before taking any medication, or if you have or suspect you might have a medical condition, are currently taking prescription drugs, or are pregnant or breastfeeding.
Ingredients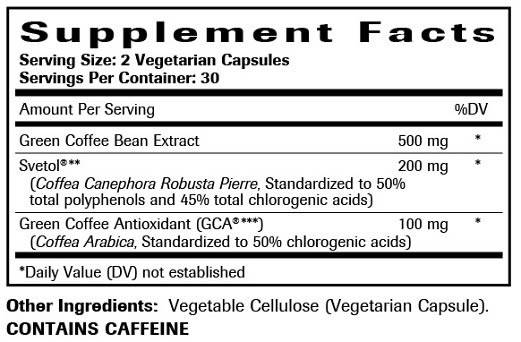 About Us
Natural Wellness® supplements are recommended by healthcare professionals and are sold around the world. When developing, formulating and producing supplements, Natural Wellness® focuses on science, quality, and proven performance. Ingredients used are of the highest quality, and all supplements are manufactured in the USA under strict current Good Manufacturing Practice (cGMP) regulations ensuring all safety and quality standards are met.
100% Guaranteed
All products are guaranteed to give you 100% satisfaction in every way. If you are not completely satisfied with a product you purchased for any reason, return it to Natural Wellness® within 90 days of purchase, and you will be issued a complete refund of the purchase price (less shipping and handling).
For any nutritional product you try for the first time, in addition to refunding you the purchase price, you will be refunded your shipping and handling, AND Natural Wellness® will even pay for the return shipping. Natural Wellness® truly takes the risk out of trying something new.
This is just one component of Natural Wellness' Super 7 Satisfaction Guarantee - which provides you with a risk-free, 100% money-back guarantee - along with the finest quality, service and security available online today.