4 Remarkable Milk Thistle Benefits
Benefiting liver health is milk thistle's claim to fame – but this herb can also help prevent cancer – and so much more!
Milk thistle is the number one herb for supporting the liver. Although a sizable portion of people with chronic liver issues has heard of (or already use) milk thistle extract to support their liver's health, this common supplement harbors some fabulous but lesser known benefits.
Milk Thistle for Liver Ailments
Extract from milk thistle seeds has proven to be a potent antioxidant and anti-inflammatory substance, providing added liver cell protection and strength. Effective for preventing the progression of chronic liver ailments, milk thistle:
Reduces inflammation and scarring in the liver, which prevents the worsening of liver damage.

Strengthens the outer walls of liver cells, which helps shield against damage from free radicals and toxins.

Deflects liver cell damage by inhibiting toxins from binding to liver cell membrane receptors.

Increases

glutathione

, which is the master antioxidant necessary for detoxifying the liver.

Stimulates protein synthesis, which encourages new liver cell growth.
Although the value of this popular herb in supporting the liver may seem like old news, milk thistle has some additional health benefits that may surprise you.
4 Surprising Benefits of Milk Thistle
The following four characteristics of milk thistle provide more reasons to consider using it regularly:

Cancer

–

Describing the abnormal growth of cells,

cancer is the second leading cause of death in the United States. Studies have demonstrated milk thistle has anti-cancer effects for the following: prostate cancer, tongue squamous cell cancer, breast cancer, cervical cancer, colon cancer and leukemia. Experts believe milk thistle's value for cancer prevention is via boosting the immune system, fighting DNA damage, reversing cancerous tumor growth and inhibiting the binding of toxins to cell membranes.

Breastfeeding

– Herbal supplement labels suggest consulting with a doctor if pregnant or lactating prior to taking it; however, milk thistle has a special value to breastfeeding women. As supported by centuries of herbal medicine and a study published in 2008, milk thistle enhances milk production in healthy breastfeeding mothers. Following an agricultural trial demonstrating that milk thistle extract promoted milk production in dairy cows, Italian researchers ran a human clinical trial that found a statistically significant increase in total milk production in breastfeeding mothers who took milk thistle.

Gallstones

– Unwanted stone formation in the body can be painful; just ask anyone who has had gallstones. Gallstones may form if bile contains too much cholesterol, too much bilirubin, or not enough bile salts – all imbalances in metabolic waste. Milk thistle supports the endocrine and gastrointestinal systems by helping clean the blood and boost the production of bile and enzymes. These three characteristics all contribute to the elimination of metabolic waste that can develop into gallstones. Clinical trials at New York University Langone Medical Center suggest that milk thistle protects against gallstone formation.

Youthful Skin

– Studies show that phytochemicals, like those found in milk thistle extract, are effective at inhibiting ultraviolet light-induced oxidative stress on the skin. In addition to preventing skin cancer and skin damage, milk thistle's skin protective qualities help to reduce

the visible signs of aging

, such as minimizing dark spots, wrinkles, lines and skin discoloration. Milk thistle's detoxification properties also serve as an acne treatment. Herbalists frequently recommend that acne sufferers consider supplementing with milk thistle to flush out toxins – which leads to a healthier chemical balance in the skin.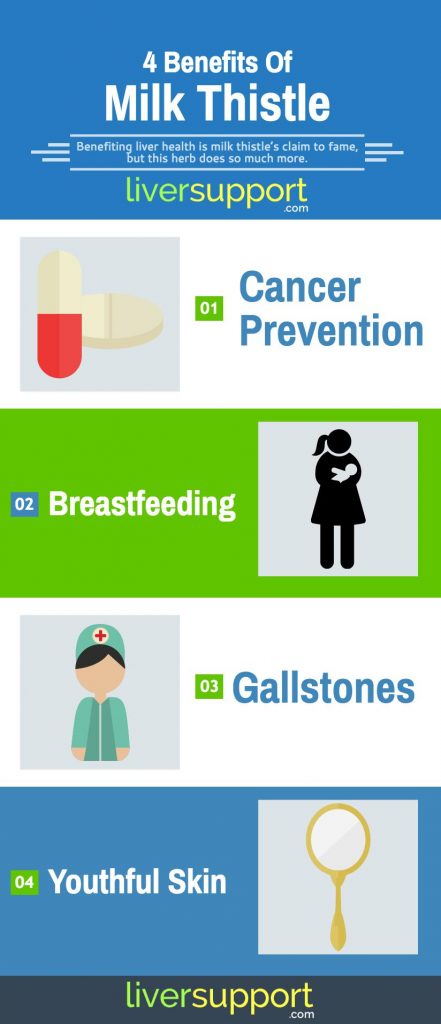 There is no doubt that milk thistle extract is beneficial to those with chronic liver disease, but this herb's strengths persist far beyond the liver. Lest anyone mistake it for a one-trick-pony, milk thistle also helps prevent cancer, increases milk production in breastfeeding mothers, protects against gallstone formation, and leads to more youthful skin.
Save
Save
Save
Save
Save
Save
Save
Save
Save
Save
Save
Save
Save
Save
https://draxe.com/milk-thistle-benefits/, Milk Thistle Benefits: Detox the Liver & Boost Glutathione, Retrieved August 28, 2016, DrAxe.com, 2016.
http://www.cdc.gov/cancer/dcpc/data/types.htm, Statistics for Different Kinds of Cancer, Retrieved August 24, 2016, US Centers for Disease Control and Prevention, 2016.
http://www.livestrong.com/article/443437-can-milk-thistle-shrink-gallstones/, Can Milk Thistle Shrink Gallstones?, Henry Pitot, Retrieved August 28, 2016, Demand Media, Inc., 2016.
http://www.naturalwellness.com/nwupdate/5-surprising-benefits-of-milk-thistle/, 5 Surprising Benefits of Milk Thistle, Retrieved August 28, 2016, Natural Wellness, 2016.
http://www.ncbi.nlm.nih.gov/pubmed/19260380, Clinical efficacy, safety and tolerability of BIO-C (micronized Silymarin) as a galactagogue, Di Pierro F, et al, Retrieved August 28, 2016, Acta Bio-Medica, December 2008.
http://www.nutritionalwellness.com/archives/2010/may/05_bone.php, Milk Thistle: Things You Might Not Know, Kerry Bone, BSc,Dipl. Phyto., Retrieved August 28, 2016, Nutritional Wellness, 2016.
https://www.truthinaging.com/review/what-is-it-milk-thistle, What Is It: Milk Thistle?, Retrieved August 28, 2016, truthinaging.com, 2016.
https://www.verywell.com/milk-thistle-and-increasing-the-supply-of-breast-milk-431599, Milk Thistle and Breastfeeding to Increase Breast Milk, Donna Murry, RN, BSN, Retrieved August 28, 2016, About, Inc, 2016.