How Chlorella Benefits Liver Health & More
Discover more about a type of green algae called chlorella that can benefit liver health. Also find out how to get chlorella in your diet.
The liver has many important tasks, such as breaking down nutrients and metabolizing drugs. Keeping this organ as healthy as possible helps it perform these actions more efficiently. And if you've been diagnosed with chronic liver disease, looking after your liver's health may help reduce the severity of your condition while improving your quality of life. (1)
One substance being promoted for improving liver health is chlorella. Learn what chlorella is and its impact on liver function. We also share a few of its additional health benefits according to the research, who might not want to take chlorella, and how to include it in your diet if you decide it's the right choice for you.
What is Chlorella?
Chlorella is a type of green algae that grows naturally in freshwater. This single-celled algae has long been used as a food source in Japan and Taiwan but is now available as a dietary supplement around the globe. (2)
The nutritional makeup of chlorella is: (2)
42-58% protein
12-55% carbohydrates
5-40% fats
Chlorella also contains all of the essential amino acids and essential fatty acids, in addition to being rich in fiber. Nutrient-wise, it contains vitamin K, several B vitamins, sodium, potassium, calcium, magnesium, phosphorus, and many more. (2)
Chlorella Benefits Liver Health
Several research studies have found that chlorella can have a positive impact on liver health. One was published in the Journal of Food Biochemistry in August 2021.
This study reported that when people with nonalcoholic fatty liver disease (NAFLD) took chlorella, the effects of a high-fat diet were significantly reversed, especially in subjects taking a higher dose. Thus, researchers concluded that these algae could help improve NAFLD and its related complications. (3)
Another piece of research published that same year explains that chlorella extracts can downregulate certain genes while transforming others, also affecting certain pathways. These effects help inhibit the progression of liver fibrosis, reducing liver damage. (4)
Additional Chlorella Health Benefits
Other studies report that chlorella isn't just beneficial for improving liver health but has other health benefits as well. According to one in-depth review, the bioactive compounds in these green algae have several beneficial effects, some of which include: (5)
protecting against tumors
reducing inflammation
preventing blood clots
fighting against bacteria
acting as an antioxidant
improving glucose tolerance
boosting immunity
Who Should Not Take Chlorella
Chlorella can potentially reduce the effectiveness of the blood thinner warfarin due to being rich in vitamin K. (6) So, individuals taking this prescription drug should avoid chlorella as the risks could outweigh the possible health benefits.
Some people also experience adverse effects when taking chlorella.
These effects can include: (7)
gastrointestinal issues such as nausea, diarrhea, abdominal cramps, flatulence, and green stools
allergic reactions
photosensitivity reactions (sensitivity to sunlight)
green breastmilk discoloration in breastfeeding mothers
How to Get Chlorella in Your Diet
Chlorella is available in powder, tablet, and pill form. This makes it easy to get into your diet should you decide that it is right for you.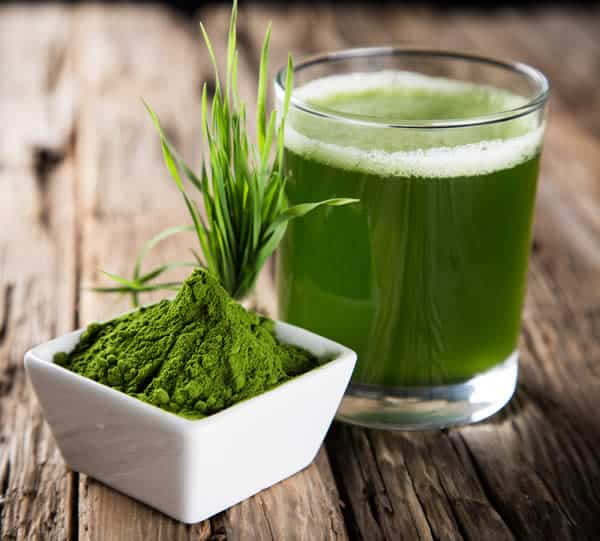 One of these additional ingredients is spirulina powder, a blue-green algae that some studies have found helpful for protecting against liver disorders, eye diseases, and oral cancer while also potentially preventing cell damage and boosting immune system function. (8)
(1) Pradhan, R., et al. (2020, September 30). The Assessment of Health-Related Quality of Life in Patients With Chronic Liver Disease: A Single-Center Study. Cureus. doi:10.7759/cureus.10727
(2) Yarmohammadi, S., et al. (2021, January). Effect of Chlorella vulgaris on Liver Function Biomarkers: A Systematic Review and Meta-Analysis. Clinical Nutrition Research. doi:10.7762/cnr.2021.10.1.83
(3) Moradi, M., et al. (2021, August 30). Chlorella vulgaris is an Effective Supplement in Counteracting Non-Alcoholic Fatty Liver Disease-Related Complications Through Modulation of Dyslipidemia, Insulin Resistance, and Inflammatory Pathways. Journal of Food Biochemistry. doi:10.1111.jfbc.13914
(4) Mohseni, R., et al. (2021). Chlorella vulgaris Supplementation Attenuates the Progression of Liver Fibrosis Through Targeting TGF- β-Signaling Pathway in the CCl4-Induced Liver Fibrosis in Rats. Toxin Reviews. doi:10.1080/15569543.2019.1700525
(5) Widyaningrum, D., Darnidita Prianto, A. (2021). Chlorella as a Source of Functional Food Ingredients: Short Review. IOP Conference Series: Earth and Environmental Science. doi:10.1088/1755-1315/794/1/012148
(6) Kawano, M., et al. (2020). The Reductive Activity of Human Liver Microsomes for Vitamin K Epoxides. Indonesian Journal of Pharmaceutics. doi:10.24198/idjp.v2i1.25302
(7) Drugs and Lactation Database: National Institute of Child Health and Human Development. (2021, June 21). Chlorella. Retrieved March 07, 2023, from https://pubmed.ncbi.nlm.nih.gov/30000882/
(8) Mount Sanai. (n.d.). Spirulina. Retrieved March 07, 2023, from https://www.mountsinai.org/health-library/supplement/spirulina