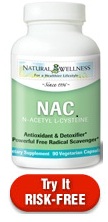 N-Acetyl L-Cysteine (NAC)
A Detoxification Essential
N-Acetyl-L-Cysteine (NAC) is an antioxidant that helps increase glutathione synthesis which, in turn, helps the body defend against harmful toxins.
Superiority
NAC is the acetyl derivative of L-cysteine. While L-cysteine plays important metabolic roles as a key antioxidant, a glutathione precursor and a natural source of sulfur for metabolism, it is unstable and can become degraded during absorption. NAC on the other hand, is more stable than L-cysteine. Taken orally, NAC converts into L-cysteine after being absorbed, and raises blood and tissue cysteine levels. As a dietary supplement, NAC (the form found in the Natural Wellness® brand) is a highly attractive alternative to the L-cysteine found on the market today.
What does N-Acetyl L-Cysteine do?
Traditionally, NAC's use has been indicated for:
liver support by helping in detoxification
counteracting acetaminophen (Tylenol) poisoning
lung health by reducing congestion
immune support by scavenging free radicals
its potential chemopreventative actions by scavenging free radicals
N-Acetyl L-Cysteine (NAC) is a precursor to glutathione, the body's principal antioxidant that neutralizes free radicals and detoxifies harmful substances. A powerful antioxidant found within every cell in your body, glutathione has many supportive functions. One of glutathione's best-known roles is to defend the cell it inhabits against damage from wastes and toxins. Since the hepatic cells of those with chronic liver disease are consistently stressed as they deflect poisons, the cells' quantity of glutathione becomes even more important. Even used as an emergency medicine tactic, one of glutathione's building blocks has been extensively revered for protecting the liver from damaging toxins.
Clinical studies have documented that glutathione is essential for detoxification and that its depletion is associated with increased risks of toxicity and chronic disease. As this antioxidant is depleted, the body has fewer resources to protect itself from oxidation – a process defined by unstable oxygen molecules damaging cell membranes. Needed by other antioxidants to scavenge and neutralize free radicals, glutathione is the body's primary defender against oxidative stress. Many experts believe that a deficiency of hepatic glutathione is one of the leading contributors to the progression of liver disease.
How does N-Acetyl L-Cysteine support the liver?
Glutathione levels decline naturally as people age, fight a chronic disease or are exposed to excessive amounts of toxins. Insufficient glutathione levels reduce the liver's ability to break down drugs, chemicals and other toxins, enhancing the probability of liver damage. Several studies document the role glutathione depletion plays in advancing liver disease:
After measuring levels of glutathione in the liver, blood and lymphocytes of patients with chronic Hepatitis C, Italian researchers found that the less glutathione present, the more severe their liver disease was.
By studying people with hepatitis, scientists from Pamplona, Spain suggested that replenishing glutathione levels improves their response to interferon treatment.
Researchers from the Oklahoma Medical Research Foundation confirmed that oxidative stress occurs in patients with chronic hepatitis. In addition, they demonstrated that the levels of free radicals corresponded directly with hepatitis activity.
The evidence connecting glutathione depletion with a poor liver disease outcome is clear. To capitalize on this understanding, many educated people with liver disease have taken it upon themselves to increase their odds by fortifying their glutathione levels.
Although glutathione is available as an over-the-counter pill, its absorption into cells when taken orally has been repeatedly questioned. Most experts on glutathione supplementation suggest that people with chronic liver disease supplement with its amino acid building blocks. Because it is readily absorbed and rapidly metabolized to glutathione, NAC is the glutathione building block most favored by healthcare practitioners.
Note: Those who need to take acetaminophen for a health condition should consider regular use of NAC, because it protects the liver from this drug's toxicity.
Natural Wellness® N-Acetyl L-Cysteine provides the ammunition you need to support your liver's health.
Try N-Acetyl L-Cysteine Risk-Free
Active Ingredients
Natural Wellness® N-Acetyl L-Cysteine contains 500 mg of N-Acetyl L-Cysteine in each vegetarian capsule.
Recommended Dosage
Presentation: 90 N-Acetyl L-Cysteine capsules per bottle
Directions: Take 1 capsule three times daily with meals, or as directed by your health care professional.
Caution: Those with diabetes should consult with their health care professional regarding interference with insulin efficacy.

Please consult with a health care professional before starting any diet, exercise or supplementation program, before taking any medication, or if you have or suspect you might have a medical condition, are currently taking prescription drugs, or are pregnant or breastfeeding. The use of natural products provides progressive but long-lasting results. Allow several weeks for full benefits.
About Natural Wellness®
Natural Wellness supplements are recommended by healthcare professionals and are sold around the world. When developing, formulating and producing supplements, Natural Wellness focuses on science, quality, and proven performance. Ingredients used are of the highest quality, and all supplements are manufactured in the USA under strict current Good Manufacturing Practice (cGMP) regulations ensuring all safety and quality standards are met.
100% Guaranteed
All products are guaranteed to give you 100% satisfaction in every way. If you are not completely satisfied with a product you purchased for any reason, return it to Natural Wellness within 90 days of purchase, and you will be issued a complete refund of the purchase price (less shipping and handling).
For any nutritional product you try for the first time, in addition to refunding you the purchase price, you will be refunded your shipping and handling, AND Natural Wellness will even pay for the return shipping. Natural Wellness truly takes the risk out of trying something new.
This is just one component of Natural Wellness' Super 7 Satisfaction Guarantee - which provides you with a risk-free, 100% money-back guarantee - along with the finest quality, service and security available online today.
References
Advanced Health & Life Extension "N-Acetyl Cysteine" http://www.advance-health.com/nacetylcysteine.html Retrieved April 1, 2011.
Kortsalioudaki, C, et al., "Safety and efficacy of N-acetylcysteine in children with non-acetaminophen-induced acute liver failure", Liver Transplantation, January 2008.
Medscape Today "NAC Slows Early-Stage Non-Acetaminophen-Related Liver Failure" http://www.medscape.com/viewarticle/565707 Retrieved April 1, 2011.
NHIOndemand.com "N-Acetyl-Cysteine (NAC)" http://www.nhiondemand.com/viewcontent.aspx?mgid=491 Retrieved April 1, 2011.
San-Miguel B, et al., "N-acetyl-cysteine protects liver from apoptotic death in an animal model of fulminant hepatic failure", Apoptosis, November 2006.
Science Daily " Treatment With NAC Is Associated With Better Outcomes For Children With Liver Failure, Study Suggests" http://www.sciencedaily.com/releases/2008/01/080103124653.htm Retrieved April 1, 2011.
Thione International "Oxidative Stress in Chronic Liver Disease: The Role of Glutathione" http://www.thione.com/summaries/vi02.html Retrieved April 1, 2011.